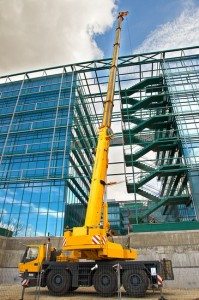 Superior Plastics and the plastic molding for construction industry are natural partners, since Superior Plastics has the knowledge and experience to turn the visions of their clients in that field into reality. Due to the flexibility of our equipment, we're able to craft solutions to their requirements, a process that prizes communication.
Plastic Molding Services for Construction Companies
Those interactions aid our experts in helping identify the best course of action to take when it comes to making sure that the final product not only functions in the proper manner, but emphasizes a safety component for all concerned parties. The latter concern is especially relevant in the construction industry, where constant activity is taking place throughout the work day.
Machines That Can Do the Job
Through the use of six different plastic injection molding machines, we can custom design both large and small parts that are durable enough to withstand the many challenges this industry must handle on a regular basis.
From our 20 Ton Blow Molding Press to the 400 Ton Toyo and plenty in between, the range of plastic injection molding possibilities for our clients are seemingly endless, and we make sure that they're aware of all the options available to them.
Meeting Specific Needs
Equipment like loaders (which includes the front end, skid steer and backhoe varieties), graders and excavators are integral to the production process, since little gets done without them. That means that having quality plastic injection molding products are vital to completing work according to the expected timetable.
In addition, specific components related to such things as drilling, connectors, HVAC parts or manifolds are often needed. Regardless of what's required within the realm of a specific venue, Superior Plastics is more than up for the challenge of making sure that customer satisfaction is achieved.
The Bottom Line
In the end, a client ends up with rigorously-tested construction plastic injection molding products that help keep project costs down, for both them and their customers. That type of mutual financial benefit makes everyone happy.
Trust and Service are the Difference
Those in construction know how dependable Superior Plastics is in getting the job done on time, as well as producing it with a uniform quality that sets itself apart from the rest. That helps explain why companies have trusted us for more than 30 years to fulfill their needs each and every day. Contact us online or give us a call at 817-882-9595 to see how much simpler we can make your life through construction plastic injection molding.