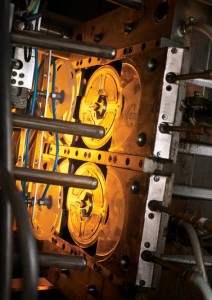 An environmentally responsible business plan is becoming an increasingly vital component of any effective long-term strategy. This is not merely due to the growing number of environmental laws businesses must comply with, but also due to the fact that the public expects that the business world will do its part in preserving the environment. Fortunately, plastic molding is a technology that can combine productivity, cost-effectiveness and an environmentally responsible production process in one package.
Injection Molding & Recycled Plastic: The Environmental and Industrial Benefits
Plastic is a durable and flexible material that can be used for a wide range of purposes while also being easy to recycle. Instead of being disposed of in landfills, plastic containers and components can be economically recycled and later used for plastic injection molding and other industrial processes.
In addition to helping to preserve landfill space, recycling plastic also reduces the amount of plastic that must be produced from scratch, which further reduces the environmental impact of a business that uses recycled plastic. This includes reducing ground pollution, as well as the amount of greenhouse gas emissions stemming from the production of new plastic.
Most importantly, recycling plastics with injection molding comes without any loss in quality. Recycled plastic can be of any color or type required by the end user, whether they need a flexible plastic part or a unit that requires a high degree of tensile strength. When combined with the fast production time found in the plastic molding process, this makes it an ideal choice for rapid prototyping or large-scale production alike.
Another advantage of applying recycling to the plastic injection molding process is that it becomes easy to create a closed industrial materials process, where used parts are recycled and provide the material needed for new plastic components. A company can thus not only provide excellent parts for its customers, but also assist them in recycling their older components.
Not only is using recycled plastics in the injection molding process environmentally responsible, but it also can reduce the company's material expenses. This is especially true given the fact that the price of new plastic can often be impacted by unexpected changes in petrochemical prices. Finally, the company can pass those savings back to its customers, helping to create a loyal customer base.
Any company that is using recycled plastic in its industrial process can benefit from the public's perception that the business is working to protect the environment. Not only does this benefit the company's reputation, it can actually improve sales among individuals and organizations that see environmental responsibility as a high priority.
Ultimately, making use of recycled plastic in plastic molding and other industrial processes is a beneficial decision at every level. Not only does this reduce the cost of production while protecting the environment, but it can also improve the company's reputation. For this reason, wise businesses are likely to see the use of recycled plastic as the shape of things to come.
Start Using Recycled Plastic in Your Injection Molding Manufacturing Process
If you're wanting to see profits increase, production efficiency improve, and your business' reputation highly respected, contact Superior Plastics and we'll start working with you to help you transition into using recycled plastics in your manufacturing process. We're the best in the injection mold building industry – just give us your order and we'll return to you an outstanding product that you can proudly claim was made with recycled plastic!
Start Recycling with Superior Plastics!