Superior Plastics
has been assessed by Perry Johnson Registrars and found to be in conformance to the following standard(s)
AS9100D
*Audited in accordance with AS9100D Requirements for Certification/Registration of AQMS. Perry Johnson Registrars is accredited under the Americas aerospace RMC.
Scope of Registration: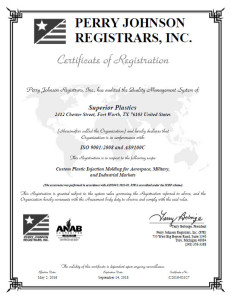 Custom plastic injection molding for aerospace, military, automotive and industrial markets
Certificate Number: C2022-01296
Effective Date: 02-MAY-2022
Expiration Date *: 01-MAY-2025
Standard AS9100 includes AS9100D quality system requirements and specifies additional requirements for the quality system of the aerospace industry. It is emphasized that the quality system requirements specified in AS9100D are complementary (not alternative) to the contractual and applicable law and regulatory requirements.