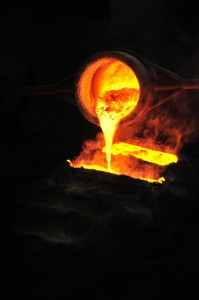 Today we'd like to highlight the ingenious efforts of a DIY plastic molder, who created a plastic molding process out of fairly primitive materials. You can read his story as he told it on Reddit. We got his permission to put together this post, but unfortunately we don't have any access to actual photographs of his process.
Simple Methods with Extraordinary Results!
In East Africa, the ancient art of blacksmithing is getting a twenty-first century, eco-friendly upgrade. A writer working under the pseudonym Technosaur has developed a "smelting" process for recycling plastic and rubber, allowing for an innovative form of custom plastic molding.
Necessity Gives way to Invention Again
Technosaur's village lacks safe running water, and tire-soled shoes are common footwear there. Perhaps it was this culture of upcycling – repurposing used materials into new products – that cultivated Technosaur's ambition to go the step further and build a home-based plastics recycling method. In a reddit post, Technosaur explains that while plastic products are unavoidable, it is possible to reduce the waste they create by melting them down and molding them into new items. (more…)